Rural Oxford - Expand Your Reach
People
Rural Oxford's population exhibits strong growth, with communities that have nurtured an environment that supports healthy living and an active business culture. We provide specialized services rarely found in rural areas to meet workforce development needs.
Proximity
Our enviable location gives Rural Oxford outstanding access to major routes and markets, while providing a quality of life found only in rural communities.
Prosperity
Rural Oxford is the most prosperous rural community in Ontario. We are seen as industry leaders in agriculture, and have substantial business presence and expertise in agri-business, food processing, transportation and logistics, and manufacturing. More than 6,000 businesses successfully operate in Rural Oxford employing over 16,000 people. When surveyed, the majority of these businesses were planning expansions.
With no development charges on industrial construction, a lower corporate tax rate, and no annual storm water management fees on industrial lands, it's clear that operating a business in Rural Oxford is cost effective.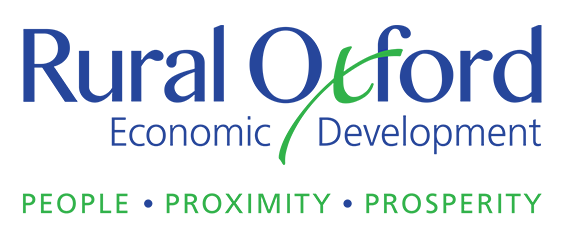 Website: www.roedc.ca
Area: 1,267 sq.mi/2,040 sq.km
Population: 41,411
Workforce: 16,000+
Key Industries: Agriculture, Agri-Business, Food Processing, Transportation & Logistics, Manufacturing