A list of Municipal and Local programs available to assist businesses.


Community Futures Oxford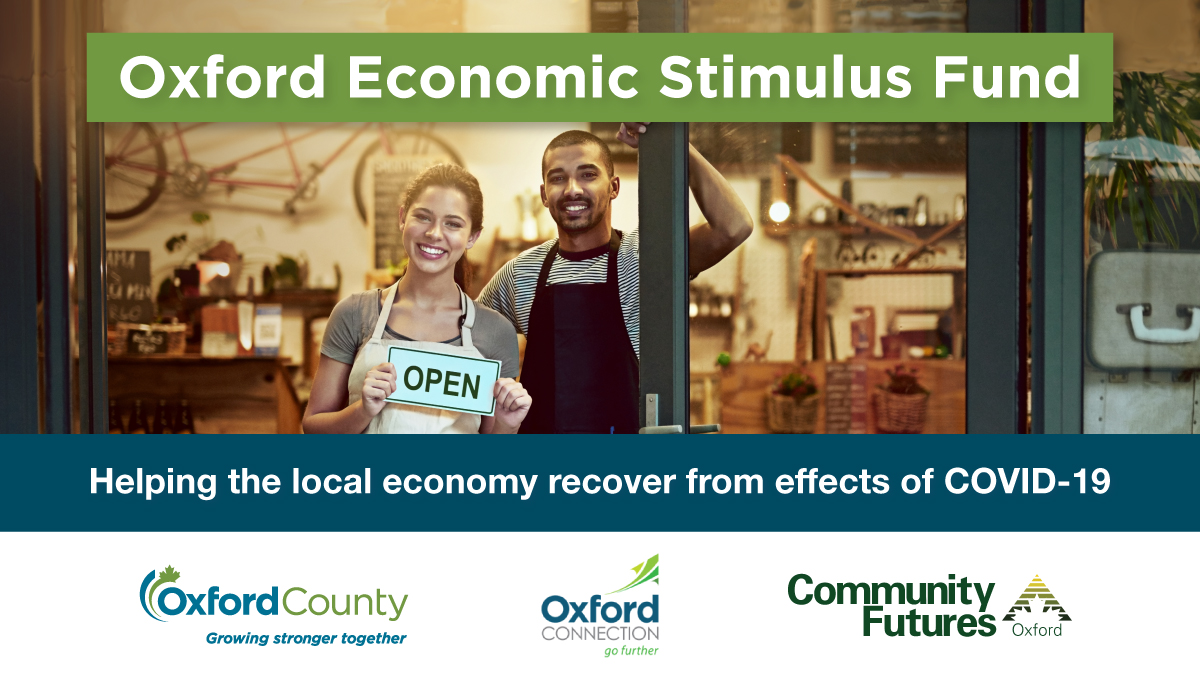 NEW! Oxford Economic Stimulus Fund
Oxford County and Community Futures Oxford have pooled funds to create the Oxford Economic Stimulus Fund, a program designed to help local small and medium-sized businesses, not-for-profit groups, and business support organizations recover from the effects of the COVID-19 pandemic.
Administered by Community Futures Oxford in collaboration with the Oxford Connection, the fund will provide local businesses with flexible loans to restart businesses closed during the pandemic, revitalize downtown cores, support tourism and hospitality operators and more.
Non-profit and community organizations are eligible for grants to support economic development, for instance, by creating and maintaining jobs, or complementing other funding sources to make local projects viable.
Up to 10% of the original principal of the loan made to businesses may be forgiven if repayment is made within two years.
Applications to the fund opened on May 20 and will be accepted until December 31, 2020.
More information available in PDF format by clicking here.


NEW!!! Regional Relief and Recovery Fund
Community Futures Oxford is pleased to deliver the Federal Government's Regional Relief and Recovery Fund (RRRF), which provides financial contributions (interest-free loans) to help support fixed operating costs of SMEs, where business revenues have been affected by the COVID-19 pandemic.
In order to provide targeted assistance to the small towns and communities they serve, CFDCs willfocus on assisting "main street" businesses, such as retail shops, restaurants, corner stores, and businesses of strategic importance to their communities, with loans up to $40,000.


Which of these two new programs (Oxford Economic Stimulus Program and the Regional Relief and Recovery Fund) is best for your business?
To assist, please consider the following:
The Regional Recovery and Relief Fund prioritizes applicants who have not received or qualified for any other programs
The Oxford Economic Stimulus Fund (up to $100,000) will prioritize people who may have received other funds, but require more than $40,000
For more information, please visit www.cfoxford.ca.


Emergency Response Fund
Emergency Microloans up to $30,000 can be applied for to provide short- and medium-term cash flow that will help businesses get through the next several months with limited or no revenue.
Eligible businesses must be located within Oxford County
Funding to be used for monthly cash flow requirements
Loan can be used to cover business rent/lease payments of up to $2,500/month for one year
Loan of up to $30,000 per client
No interest for the first 6 months (limited time offer)
Expedited application and approval process
Please contact our office regarding all terms and conditions of the loan
Learn more at https://cfoxford.ca/emergency-response-fund
---
Rural Oxford
The 5 Rural Oxford Townships waive late payment interest that would normally be charged on April and May 1st, 2020.
NEW!!! Rural Oxford E-Business Grant Program

Rural Oxford EDC has partnered with Community Futures Oxford and Tourism Oxford to launch the Rural Oxford E-Business Grant Program. This program was launched to help business owners adapt and/or enhance their online sales process by incorporating a sustainable e-commerce solution into their business.
Who Can Apply?
Rural Oxford business owners who are researching e-commerce platforms to enhance their online business activities may apply for up to $1,000 toward the implementation of their chosen e-commerce solution.
A Rural Oxford business is located in Blandford-Blenheim, East Zorra-Tavistock, Norwich, South-West Oxford and Zorra Township.
Eligible Projects:
New and improved e-commerce websites and/or shopping cart solutions that help the business facilitate online transactions for their customers and moves customers away from paying by e-transfer.
Delivered by contracted service providers, external to the applicant, and will result in a functional online store, webpage and/or sales process
Implemented and paid for between March 15 and December 15, 2020
Eligible Costs include:
Development, enhancement and expansion of an online marketing/sales platform
Domain acquisition, hosting fees, initial or start-up licensing/subscription fees
Graphic design and digital marketing assets necessary to design, enhance, and promote a professional online store, such as professional product images or paid advertising to promote the new e-commerce capabilities
Eligible projects must be implemented and paid for between March 15 and December 15, 2020.
Learn More: https://roedc.ca/rural-oxford-ebusiness-grant-program
---
City of Woodstock
Council has approved waiving penalty and interest on outstanding taxes normally charged on April 1st, and May 1st.
NEW - Woodstock council approved continuing to waive penalty and interest on any outstanding taxes for June and July.
For more information contact : This email address is being protected from spambots. You need JavaScript enabled to view it.
https://www.cityofwoodstock.ca/en/live-and-play/covid-19.aspx
---
Town of Ingersoll
The Town is prepared to waive late payment interest that would normally be charged on April and May 1st, 2020
https://www.ingersoll.ca/covid-19
---
Town of Tillsonburg
Development Charge Deferral Program – Tillsonburg is now offering home builders the option of deferring payment of the Town's portion of the Development Charges for permits issued between May 26 and July 31, 2020 with the date of collection being changed from Building Permit issuance to the time of Occupancy Permit issuance subject to entering into an agreement with the Town.
Sign Bylaw Amendments – Temporary measures to allow for longer use of mobile signs, waiving of monthly fees for mobile signs, and introducing temporary banner signs.
Measures to Assist Citizens and Businesses – Tillsonburg Town Council has approved the following measures to assist citizens and businesses that are experiencing financial hardship due to COVID-19:
Option to defer payment of the May 21 property tax installment, without interest or penalty, to July 31, 2020.
Option to defer payment of water and wastewater charges generated after March 31, 2020 until June 30, 2020.
The Town has created on online Payment Deferral Application
https://www.tillsonburg.ca/cvu
---
Southwestern Public Health